Six reasons why you should stay nearby Bangkok's BTS and MRT stations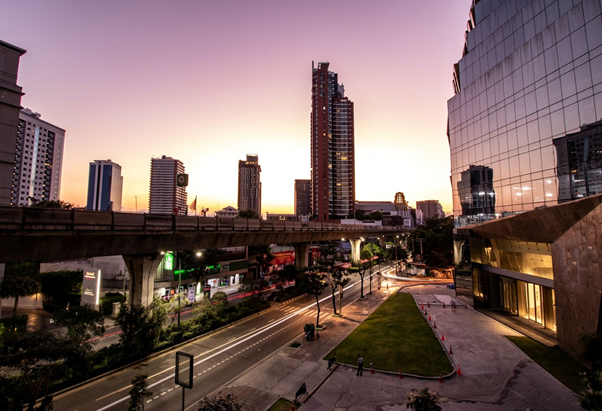 The roads of Bangkok are often very busy, especially during rush hour. Fortunately, the BTS Skytrain and MRT Subway enable  people to travel to work and anywhere else around the city more quickly and comfortably. Given the convenience of these train lines, there are now many condominiums near the train stations.
In this article, we will discuss six reasons why you should live nearby Bangkok's BTS Skytrain and MRT Subway stations.
Quick and comfortable travel
Instead of riding a car and getting stuck in a traffic jam, taking the BTS Skytrain or MRT subway will save you so much time. This means you do not have to be constantly in a rush and you have more time to rest. By living near a train station, you can just walk your way to a convenient public transportation ride.
Less travel costs
If you live close to a BTS or MRT station, you can easily travel around the city without having to own a car and calling a taxi. This lets you save a lot of money since travelling via public transportation is more affordable than paying for petrol or taxi fees.
Even if you own a car, living near a  BTS or MRT station is still a good idea since it gives you the option to use the train to go to work comfortably and at the same time drive out of the city to visit your family or enjoy a weekend trip.
Easy access to facilities
Every BTS and MRT train station is surrounded with many facilities, such as local markets, malls, supermarkets, shops, restaurants, cafes, and banks. Therefore, living in a condo near these train stations will give you easy access to all those facilities.
For example, if you live in a condo near MRT Rama 9 (คอนโด MRT พระราม 9), you'll be right next to Central Rama 9, Lotus, and office buildings like G tower. If you are staying near Lumpini MRT, then you can easily go to  Lumpini park where people go for an evening run or other exercises.
High demand
Compared to other condominiums, those near  BTS and MRT stations are highly sought for, especially those that are near the heart of Bangkok city. Such condominiums can offer the city life that most people want, so their property value will surely continue to rise, making them a great investment. So whether you are looking to sell such condominiums or have it rented in the future, you will definitely get a better price for it compared to condominiums that are located far from a BTS and MRT station.
Safer
When you have to travel to Bangkok city and live far away from a BTS or MRT station, you would have to ride a motorcycle or walk in dark, small alleys. In contrast, when you live near a BTS or MRT station,  your routes will always be well-lit and full of people, making travel safer.
For example, condos near MRT Rama 9 are surrounded by many small communities and have quick access to motorcycle and taxi services. Therefore, if you need to travel, you can safely walk to the train station or avail of the said transportation services.
Great city view
If you live in the middle of the city,  near a BTS or MRT station, you get a fantastic view of Bangkok's skyscrapers from your window. In further locations, on the other hand, your condo would likely be surrounded by big construction sites, which would mean you would have to endure daily air and noise pollution.
Easy access to important landmarks
BTS and MRT stations are situated near many important landmarks, such as:
Bangkok Art and Culture Center – National Stadium station
Siam Center – Siam station
Central World – Chidlom station
Terminal 21 and Korean town – Asok station
International cafes, parks for sports and exercise – Prompong stationAs you can see, there are so many reasons why it is ideal to buy or rent a condo in Bangkok near a BTS or MRT station. While such a condo will be more expensive than those in further areas, it offers all of the abovementioned benefits.If you are ready to search for a condominium near a BTS or MRT station, check out DDproperty.com; you will surely find the place where you can  stay and enjoy a comfortable life!